A BIG THANK YOU!  We love our fans and community!  Our first two feature films (Jailed for Justice and Sam's Ride for Peace) are nearing an end in their respective production cycles.  We appreciate the thousands we raised for these project; however, we still have fallen about $6000 short of our original funding goals on each film and will need to count on YOU to help us spread the word to raise our "Finishing" funds.  These funds will help us finish sooner rather than later by supporting the final editing and marketing of both projects as the filming is almost complete for both of them.  Interested in sending in more funds?  Feel free to send us a private email at:  filmsforworldpeace@gmail.com
See our archive notes below:
Note- This film has now evolved into "Jailed for Justice".  This is how we started the project: Do you want to help produce our first feature documentary?  Our film is finding itself organically.  This is very exciting news.  As we focused on the Mass Moral Monday March on Raleigh that occurred on February 8th, we knew we were onto a compelling story that could go in many different directions.  After looking at the great footage we filmed and critiquing the content of our many interviews, we have zeroed in on the key characters and themes that we want to tell this story.  As a result, we have been busy re-branding our campaign to let the audience get introduced to our characters.   We have asked our fan base to give us a couple of weeks to re-launch our fundraising campaign and to help us get the word out once we do.  With this new launch comes a new title for our film.  Stay tuned.  We will have more details available on March 25th.   In the meantime, you can view our original trailer until we launch the new one:  February the 8th Trailer   "people united can never be defeated".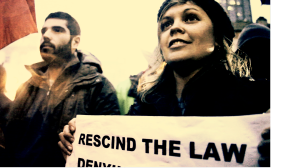 2014–North Carolina is a political fault line. The extreme right thinks they've squashed the Moral Monday protests but a new face-off begins February the 8th.
At this time, we are not accepting corporate donations.  This film is for the people by the people.  Make this film happen.  No contribution is too small.  Book your free digital download now.  Follow the link above for more info.