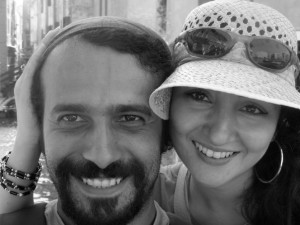 •FiLMs for World Peace, a micro-budget film production company, was founded by two globe-trotting college English instructors who believe in the transformative power of communication.  Combining their passions for teaching, writing and film they challenged themselves and their students to unleash the power of visual storytelling to nurture understanding  between East and West because writing and film travel without visas.
Anita and Ahmed F. Selim spent years traveling the world while spending most of their time in the Middle East before relocating to the United States in 2013.  During the "Arab Spring" uprisings in 2011, a team of students that Ahmed was documenting were called into the Al Jazeera News World Headquarters. Ahmed was eventually given permission to continue documenting how these students kept the Egyptian Revolution televised for the world.   Ahmed's footage has also appeared on Sky News and CNN.  The experience of the Arab Spring revolutions have played an instrumental role shaping how FiLMS for World Peace would eventually set its mission of using film to empower the will for positive social change and transforming conflict into discovery.
As fiercely independent filmmakers, FiLMS for World Peace has mentored success.  All four of our students who have participated in our full mentorship program  have gone on to either win or be recognized in international film festivals.  As of 2013, FiLMS for World Peace stepped focused on the non-commissioned  production of 4 feature documentaries.  2 of these films will be completed before the end of 2015 and we will be updating our progress on this website.
In addition to film productions, FiLMS for World Peace is heavily involved in community projects.  One such project is serving as a chair of an elementary school's  National PTA Reflections competition to promote arts education.  We are happy to announce that first prize awards have been issued at both the county and state level in film to the school we trained and we are waiting the results of the national competition.
Another community project is The World Peace Challenge which is a subset of FiLMS for World Peace that places the responsibility for maintaining peace in the world on individuals before institutions.  The World Peace Challenge has partnered with Sam's Ride for Peace this year and Ahmed has committed to completing the 350 mile bicycle ride with the 90 year old World War II Veteran, Sam Winstead from Raleigh, NC to Washington, DC.
Feature Film Titles currently in production:
-Jailed for Justice–scheduled completion-Winter 2015
-Sam's Ride for Peace–scheduled completion-Spring 2016
-Father of Fire: What you seek is seeking you–Summer 2016
-Knights of the Kitchen Table.-scheduled completion Fall 2016