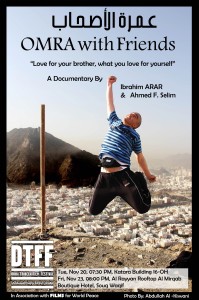 Synopsis:
Qatar University students embark on a journey to Mecca and Medina to perform their omra during Spring Break. Ibrahim Arar brings along his point-and-shoot camera, and captures an authentic story revealing the character, humour and friendships inspired by a time-honoured tradition with modern-day twists.  A film co-directed by Ibrahim Arar and Ahmed F. Selim in collaboration with FiLMS for World Peace.  It was an official selection of the 2012 Doha Tribeca Film Festival.
IN THE PRESS–An article by Judith Bennette Henry
Film by QU student and mentor screened at DTFF
Won applause and praise from judges and audience
Entered in the Made in Qatar competition
"Friendship and overcoming obstacles is the subject of a 20-minute documentary film submitted by two QU members and screened at Katara's Opera House and Souq Waqif rooftop during the recent Doha Tribeca Film Festival (DTFF).

The film won applause and praise from judges and audience members for its heart-warming subject of young men sharing their journey on Omra.

The film "Omra with Friends" had its first showing on the opening night of the Festival in front of a sold-out theater of 300 people. It was entered in the Made in Qatar competition under the Through Their Eyes category. The film is one of around 80 that were submitted in the competition and of the 19 that were selected – it was judged in the category by an international jury panel.

The film is a collaborative effort of QU graduating student and aspiring film-maker Ibrahim Arar and QU teacher and film maker Ahmed Selim, and follows 22 QU students of various nationalities taking the spiritual journey of Omra to the holy cities of Mecca and Medina. The Omra trip was filmed by Ibrahim on a small "aim-and-shoot" camera and interspersed with snapshots. The journey starts in Qatar and traces the bus ride to the two cities and the students' activities at various cultural and religious spots.

Commenting on the film, Ibrahim said: "When I told Ahmed about my idea to make a film about students going on Omra, he was really enthusiastic and supportive. No-one has ever really made a film like this before. I thought it would be a great opportunity to give particularly non-Arab and non-Muslim people an insight into what it is like for young shabab on Omra".

"We wanted to be true to the spiritual nature of the students' journey but also to show them as young men together being friends and having serious and light-hearted moments in their experiences there", Ahmed said. He noted that what the film also underpinned was the student/mentor relationship that brought it to fruition.

The film carries an emotional tagline "Love for your brother what you love for yourself" which aptly describes the students' interaction with each other and the spirit of camaraderie among them. There are several heart-tugging parts in the film, such as the unguarded moment when Ibrahim leaps for joy on the mountain of the Prophet Mohammed and another when the Palestinian students stood singing religious songs while proudly holding the Palestinian flag.

"This is not a political statement being made in the film", Ahmed said, "It is just that we needed to show the students just as they were and what they did while there".

For the students in the film, it was important for them to see it together – 12 of them were present at the showing. "This film was very emotional for me and for my friends as well, because it was our journey which was itself emotional, and I wanted very badly to be able to get across those emotions to the audience. I think anyone who watches it will understand how we felt", Ibrahim said.

Speaking before the final judging, Ahmed said: "We are a bit of an underdog in the competition.  We took creative risks with the story telling and produced a film that will draw the audience in. It is a proud moment for all of us to be part of the festival".

He added: This project has been a perfect combination of my two passions – working with students and film making. It was a great experience working with Ibrahim — we both poured everything into this".

Ibrahim said: "This experience has been amazing and encouraged me to continue in my work. My friends are also supporting my dream to make more films like this. It is just the beginning – Ahmed and I now want to improve the film and present it in various forums and festivals abroad."
•Fiction, documentary and experimental pieces
•Stories about change-makers
•Stories that examine the dynamic between social change and inner change.
_______________________________